Join Us for An Exciting EU Code Week Webinar
Calling all NPOs, educators, and aspiring coders!
#MeetandCode #DigitalSkills #DigitalImpact #CodeEU
04.10.2023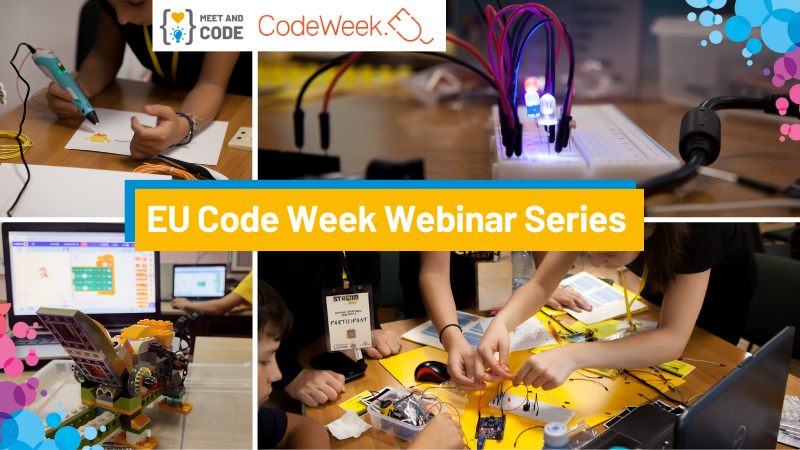 Meet and Code events are in full swing and inspiring coding and digital skills events are taking place across the continent. From Spain to Slovenia, and Italy to Ireland, we're empowering young people with the skills they need to thrive in the future of work.

If you didn't know already—Meet and Code is aligned with EU Code Week, and we have something special in store for you this year. We couldn't be more thrilled to invite you to our upcoming EU Code Week webinar on 16 October at 17:30pm (CEST). This insightful event will bring experts, thought leaders, and passionate advocates together to delve into the topic of "Fostering Youth Digital Skills Across Europe: Cultivating Partnerships and Facilitating Skills Transfer."

It will include the perspectives of four talented speakers—Meet and Code Ambassador, Jamie Holroyde, Volunteer Services Coordinator of digit<all>—Donna Robertson, Head of Corporate Social Responsibility for SAP Germany—Gabriele Hartmann; and Amazon's Europe Lead Education—Michael Vollmann.

But what can you look forward to as part of this engaging webinar? In an era where our world is becoming increasingly digitized, the urgency to equip Europe's youth with the essential skills they need has never been more critical. We'll be delving into interesting discussions surrounding the following aspects:

· What role can you play in shaping the future of youth in a digital world?
· How can the private sector play a part in closing the digital divide?
· How can coding camps inspire and empower future digital trailblazers?
· How can schools, tech companies, and non-profits come together to create a network that paves the way for success in the digital landscape?

Join us as we delve into these vital aspects of digital education and empowerment within our rapidly evolving global landscape.

Don't miss this opportunity to be a part of this conversation and shape the future of our youth. Register here to secure your spot.

We can't wait to see you there!