Celebrating the European Year of Youth
2022 has been dubbed the 'European Year of Youth' and at Meet and Code, we can't think of a better theme.
#MeetandCode #DigitalSkills #DigitalImpact
19.04.2022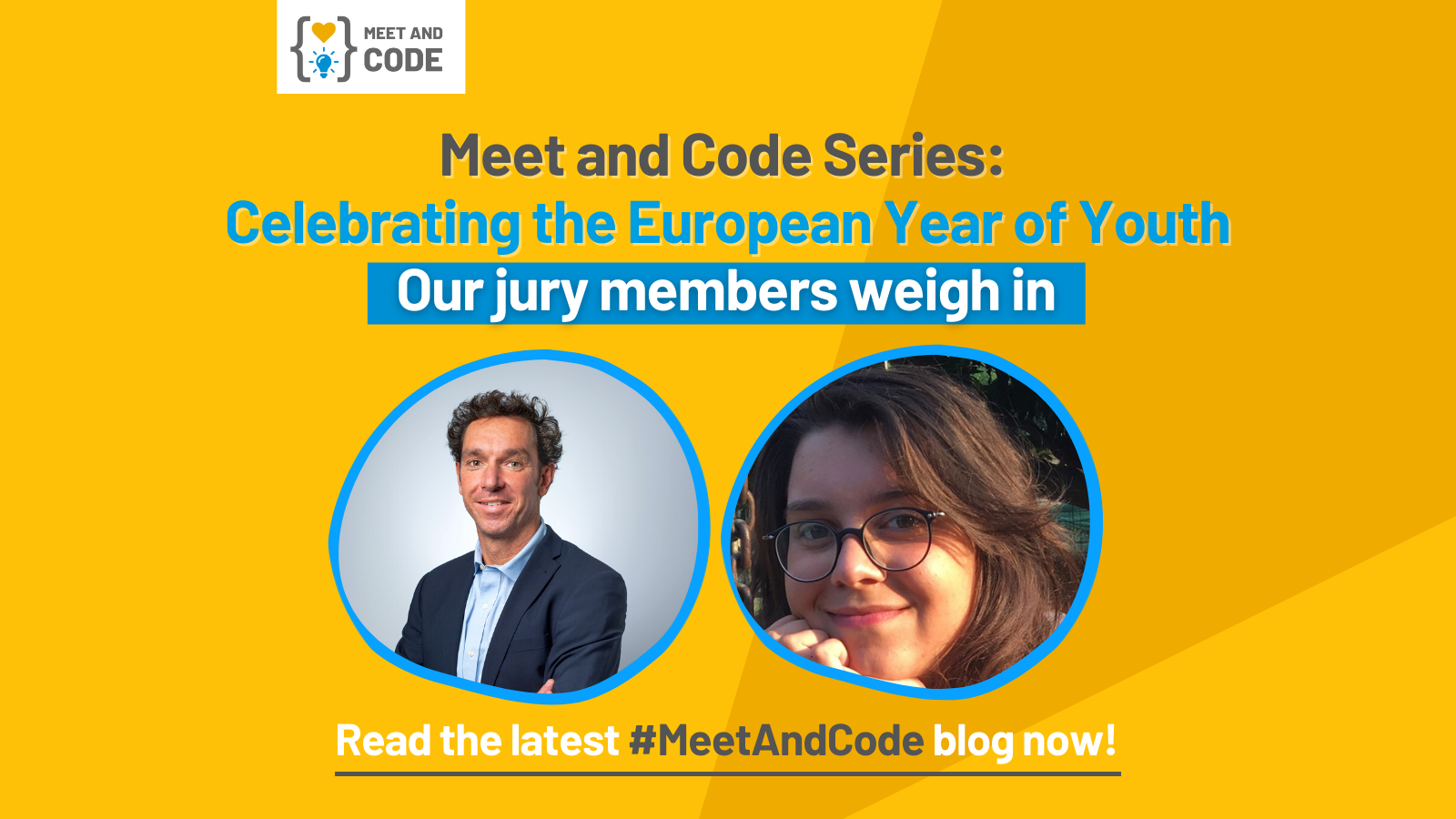 The aim of the Year of Youth is to shine a light on the role that our future leaders play when it comes to building a better future – one that's greener, more inclusive and digital.

At Meet and Code, Europe's biggest digital skills youth program, we provide funding to local non-profit organizations to host workshops across the continent to improve our young people's digital skills and equip them for 21st-century jobs.

To celebrate the European Year of Youth, we're rolling out a series of blog posts where our esteemed jury members give us their input regarding what more can be done to improve our young people's digital skills, why it's so important and what they were inspired by at the 2021 events:

Clemens Frede, Managing Director at Haus des Stiftens, says that to successfully run his daily business, he collaborates with colleagues virtually across many regions and time zones. "Baring this in mind, I find it very inspiring that all the amazing Meet and Code events use such creative ideas to teach digital skills to young Europeans in a virtual or hybrid way while still remaining engaging. This already prepares the participants to face various challenges and take advantage of opportunities that they will be presented with in their professional careers."

Our Meet and Code Superstar, Stefania Spachou shares that she was excited by the workshops' focus on how young people can use technology to serve specific purposes. "This is an essential quality for people entering the job market as they are frequently required to use technology to complete their tasks more effectively and efficiently."

To further improve youth's digital skills, Stefania believes that each country's government and institutions should help to raise awareness about how important digital skills are nowadays. "More specifically, educational technology programs need to be promoted more actively to the public and especially youngsters. Schools, moreover, must include specific subjects that develop and enhance their students' digital skills in their curricula."

Clemens agrees, saying that this is already starting to become a reality. "As with everything that you want to improve in life, the foundation for progress is continuity, creativity, and challenging the status quo. There is already a lot of content available and many leaders from civil society foundations, corporations like our Meet and Code partners SAP, Microsoft Germany and Amazon Germany, as well as governments in Europe, are pursuing a common interest in young people's digital skills. It would certainly be helpful to build a stronger network to coordinate and bundle resources to achieve even greater impact going forward."

When asked why digital skills are so important, Stefania says that technology is all around us, affecting our daily lives in a way that only science fiction writers imagined. "Therefore, to function in a modern, technology-ruled society, digital skills are essential for young adults to take part in the competitive job market, or in the online communities that are becoming even more active than the ones in real life."

Clemens adds that the world we live in is significantly shaped by everything digital. "To ensure that everyone can participate in this digital society, no matter their socio-economic background, I believe it is crucial that we teach these skills as they ultimately add to youngster's comprehension of today's world and its processes. A solid understanding of this digital world helps young people to thrive and to follow their career and life paths."

We couldn't agree more! Thank you to our first two jury members for their valuable input. Keep your eyes peeled for the next edition of our Celebrating the European Year of Youth series with more pearls of wisdom from our VIP jury.