Meet and Code Online Seminars in October
Meet and Code's Online Seminars continue: Find out what we have in store
#meetandcode2021 #capacitybuilding
06.10.2021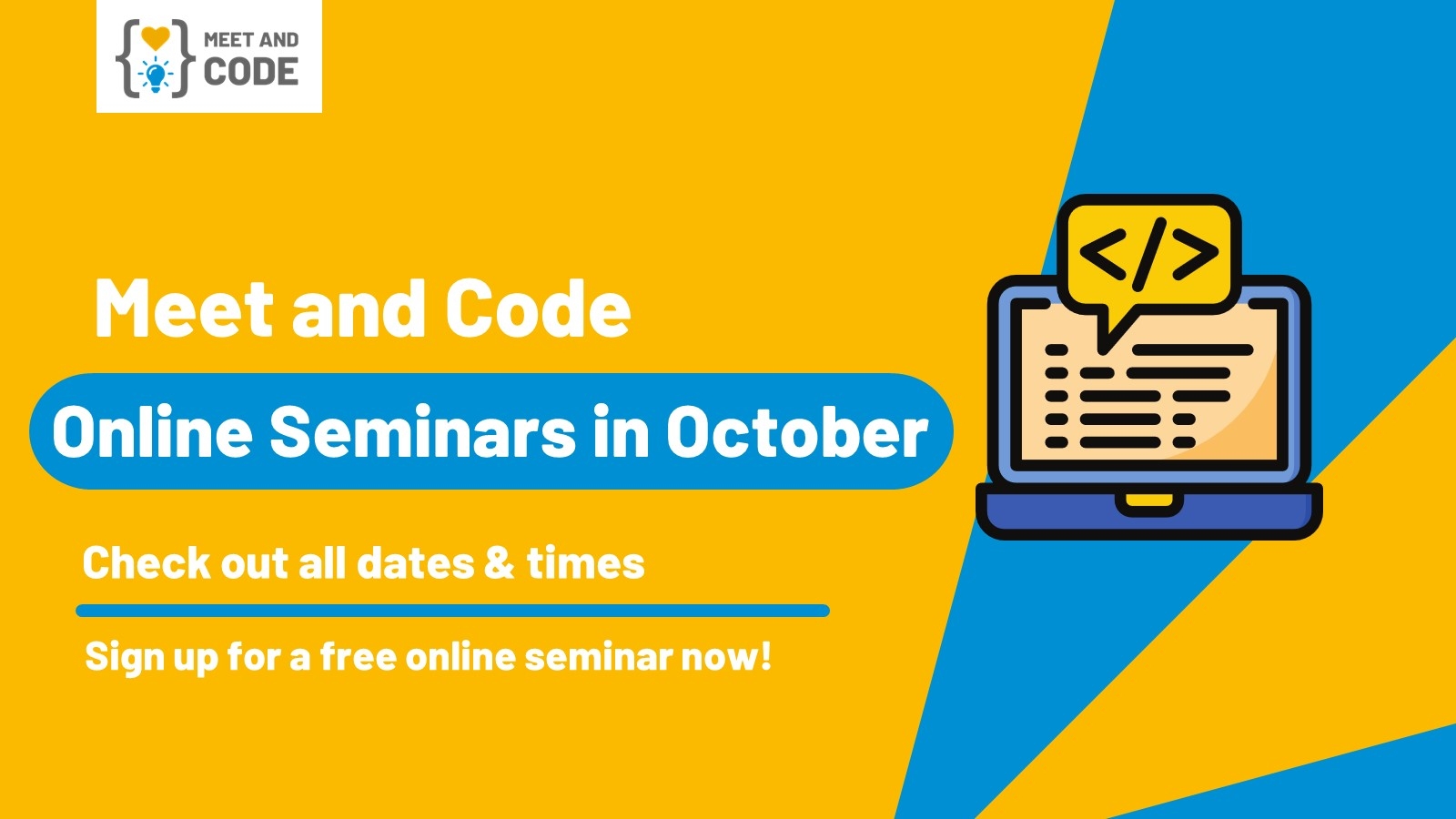 Sustainability, coding, and Artificial Intelligence are all buzzwords that pique our interest. But sometimes we don't know exactly what they're all about. Luckily, the next round of Meet and Code Online Seminars in October are back and packed with a punch.

With Meet and Code events in full swing across Europe, our online seminars aim to further encourage and inspire our NPOs by providing a broad range of interesting topics centered around the world of IT. These range from coding to digital education, and in support of fast-tracking digital skills development among European youth, the seminars form an integral part of Meet and Code's capacity building program. The seminars will feature SAP expert speakers and coaches with sessions being held in English, free-of-charge.

Whether you want to learn more about how technology can minimize the impact of climate change, coding 101 or improve your Snap! skills, check out our series of online seminars taking place in October below:

1. "No bees, no trees, no shades – no, thank you" with Pedro Ahlers on October 12, 15:30 – 16:30

The world is heading towards a dead-end. Climate change is a reality that was sadly caused by humans, and all lives are at risk if nothing is done. Although the uptake of science to address this threat has been slow, a revolution has begun to slip into gear. Unlike many other global challenges, climate change cannot be solved by the actions of celebrities, companies, or governments alone. It needs a new way of thinking and a commitment from everyone to act with purpose. Pedro has called it "the power of eco-systems", and we have a significant role to play!

Join this impactful online seminar with an open mind and learn about the struggles businesses are faced with when it comes to climate, and how we can make an impact together.

Now is the time to dream a little bigger. Watch the recording here.

Meet the speaker:
Prior to working in Sustainability Innovation, Pedro Ahlers gained experience in sales and pre-sales at SAP. But no matter what he does, answering the 'why' before talking about the 'how', has always been and still remains his top priority. Together with his team, Pedro predicts what might become relevant within the large realm of sustainability over the next 3-10 years. They also focus on what needs to be done to ensure businesses and eco-systems are ready to adapt. Pedro brings 12 years of chemical industry experience to the table, as he has worked at BASF in Ludwigshafen in various positions from IT, strategy, to business. He holds various IT, Digital Marketing and Sustainability certifications and is now located in Walldorf, Germany.
Read Pedro's recent blogs here.

2. "Coding? The roadmap of why and where to start" with Vladimir Valouch on October 14, 15:00 - 16.00

Coding? What is coding, you may ask. Learn where you can encounter coding in your daily life, why you should be interested in it and how to choose the best coding language for you. Lastly, you'll learn coding examples such as game creation in Scratch or data processing with Python.

Register now.

About the speaker:
Vladimir works as a Software Engineer in the Data Science team at SAP Concur. He has over 15 years of experience building software systems of all sizes and more than 4 years of experience when it comes to machine learning. During his professional journey, Vladimir integrated the first on-device model for Concur Mobile and enjoys investing his time innovating and automating anything he can. He loves spending time with his family and taking part in various sporting activities such as badminton, running, and swimming. He considers each day that that he learns something new a great day and lives by his personal motto: Never stop learning!

3. "Exploring the world of AI" with Jadga Huegle on October 26, 15:30 – 16:30

Nowadays, we encounter artificial intelligence (AI) nearly everywhere – it's used in our smartphones, in cars, and in healthcare. But what is AI and how does it work?
In this session, our expert speaker Jadga Huegle from SAP is returning and she will take a closer look at different types of Machine Learning and even at building an own AI system in Snap! You're curious? Then join her on the journey through the world of AI.

Register now.

About the speaker:
Our expert speaker, Jadga Huegle, was originally a biologist and discovered her interest in Computer Science (CS) while building a small, connected greenhouse. Since then, she has become a Snap! and CS education devotee and is eager to share her excitement with everyone. Jadga works for SAP's Snap! team and develops learning resources for schools and workshop facilitators.