Online seminar: From Offline to Online
We know that educating virtually can be tricky at first, thus this year we come with a set of materials to help you settle in the online reality.
#online #seminar
31.07.2020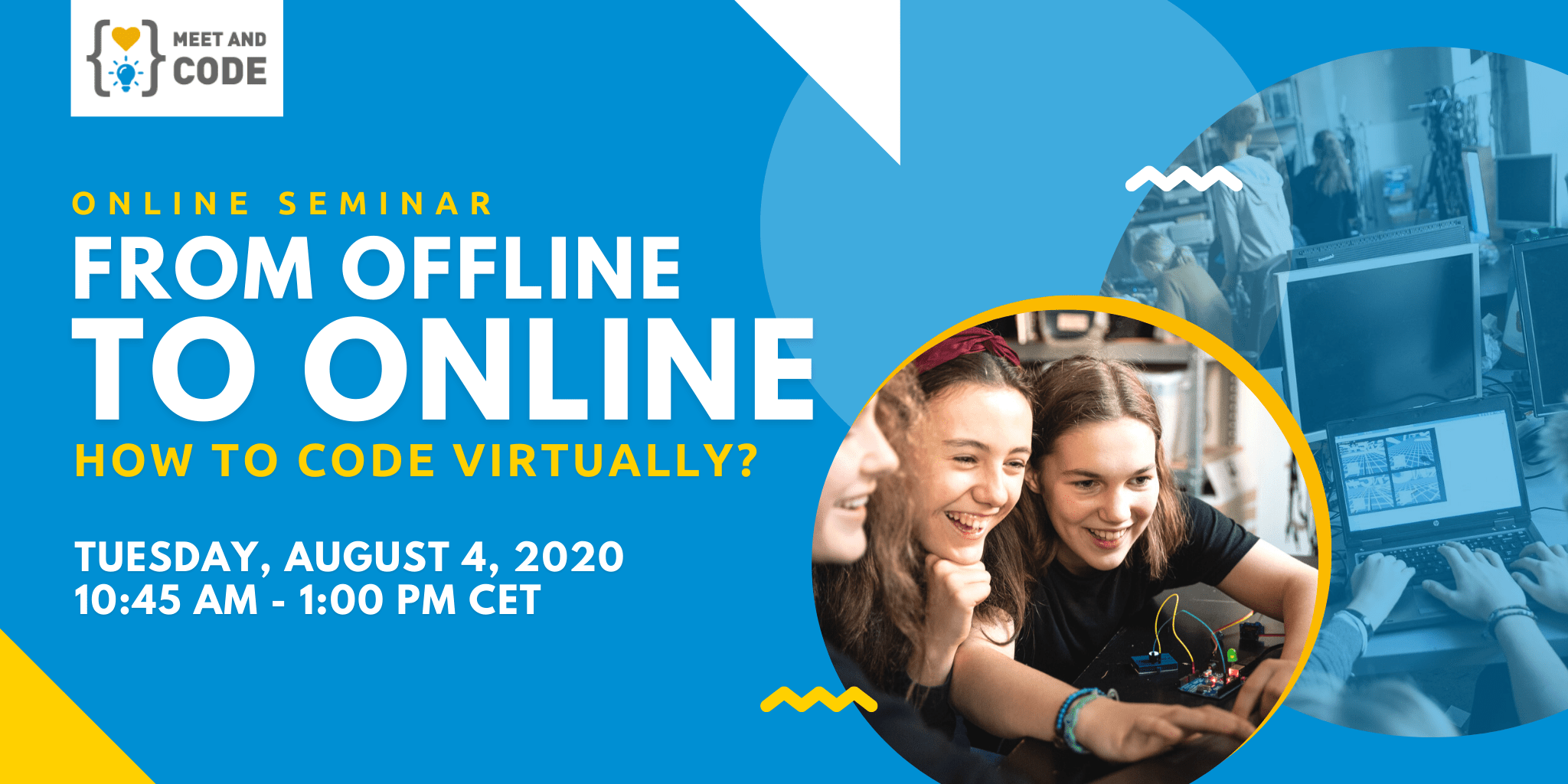 Meet and Code 2020 has moved to online. We would like to help future organizers prepare for that challenge and we have prepared for you a manual How to take Meet and Code online and a series of online meetups that will help you shift to virtual coding experience for children and young adults.

Tuesday, August 4, we would like to invite you for a second online seminar "From offline to online: how to code virtually." In this interactive workshop we first give a short insight into the recently published guide, which contains a broad overview over the most important issues of running online seminars.

But second and even more important in view of the soon starting Meet and Code 2020, we want to address your questions and challenges in joint discussions to learn from each other in this great network. Active participation is highly welcomed, so please bring your topics!

WHAT'S IN IT FOR YOU?
Best practice of online seminars
Get to know the open source conference tool BigBlueButton for education by using it
Knowledge exchange with other practitioners
WHO IS IT FOR?
Educators in the non-profit sector of digital learning
PRACTICAL INFO
The seminar is
limited to 30 people maximum
to ensure the most personalised and interactive experience. It will take
120 minutes
plus a mandatory technical check-in of 15 minutes before start. It will be held in English, hence
good understanding and speaking of English is required
. Equip yourself with a good internet connection and a headset.
DATE: Tuesday, August 4, 2020
10:45 AM - 1:00 PM CET
Only one person per organization is allowed.
Register HERE to join us for free (it takes just 1 minute)
Afterwards, you will receive an email with a confirmation and link to BigBlueButton - a tool where we are going to meet. You don't have to install BigBlueButton to use it. You only need to open the provided link and can participate via a browser.
Due to the limited number of participants, we will repeat the same format of the meeting in August and September.
Number of participants is limited to 30 per event, with a restriction of one person per organization.
Register now and code without borders!