Enter the Meet and Code Awards 2021
Enter the Meet and Code Awards and Stand a Chance to Win Congratulations to all the NPOs who completed their Meet and Code events.
#eLearning #MeetandCode #DigitalSkills #Awards
01.11.2021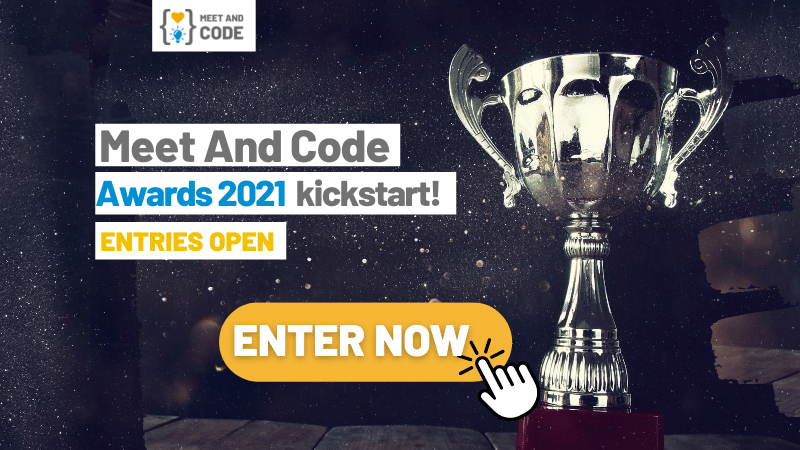 We were so inspired by all the creative ways you taught digital skills to European youth across the continent. Although our workshops and events have ended, we have more in store at Meet and Code. Now it's time for the Meet and Code Awards!

As part of our goal to improve digital skills among Europe's youth, the NPOs who take part in Meet and Code are instrumental to making this a reality. It's for this reason that we launched the Meet and Code Awards where participating NPOs stand a chance to win one of five cash prizes.

Do you think your event has what it takes?
To enter, your event must fall under one of our five award categories: Girls do IT!, Code for the Planet, Diversity, Community, and Code for Europe.
The most innovative, creative, and inspiring event ideas with opportunities to expand projects will be considered for an award.
Your award entry should be accompanied by images from your event as well as feedback from participants/coaches/trainers to support your entry.
It is also important for your event report to be submitted on time to take part in the awards.
Who do you have to impress?
The most impressive events from each of the 35 participating countries will be shortlisted by the local TechSoup partner. Thereafter, our esteemed Meet and Code jury will carefully select three finalists in each of the categories from which the winners will be chosen.
What's in it for you?
The five winning events will win a prize of 2.000 € each. We want to celebrate with you. Each of the three finalists from the five categories will be invited to the festive Meet and Code Awards weekend where the winners will be announced. Due to the uncertainty of the pandemic, it is yet to be determined if the closing event will be virtual or in-person at a European location, however it will be hosted in Spring 2022.
Registrations are open from 1 November 2021 to 15 December 2021. Kindly note that all registrations will be in English only.
Apply Now