Meet and Code Online Seminars in July
Be Inspired with Meet and Code's Innovative Online Seminars this July
#meetandcode2021 #onlineseminars
09.07.2021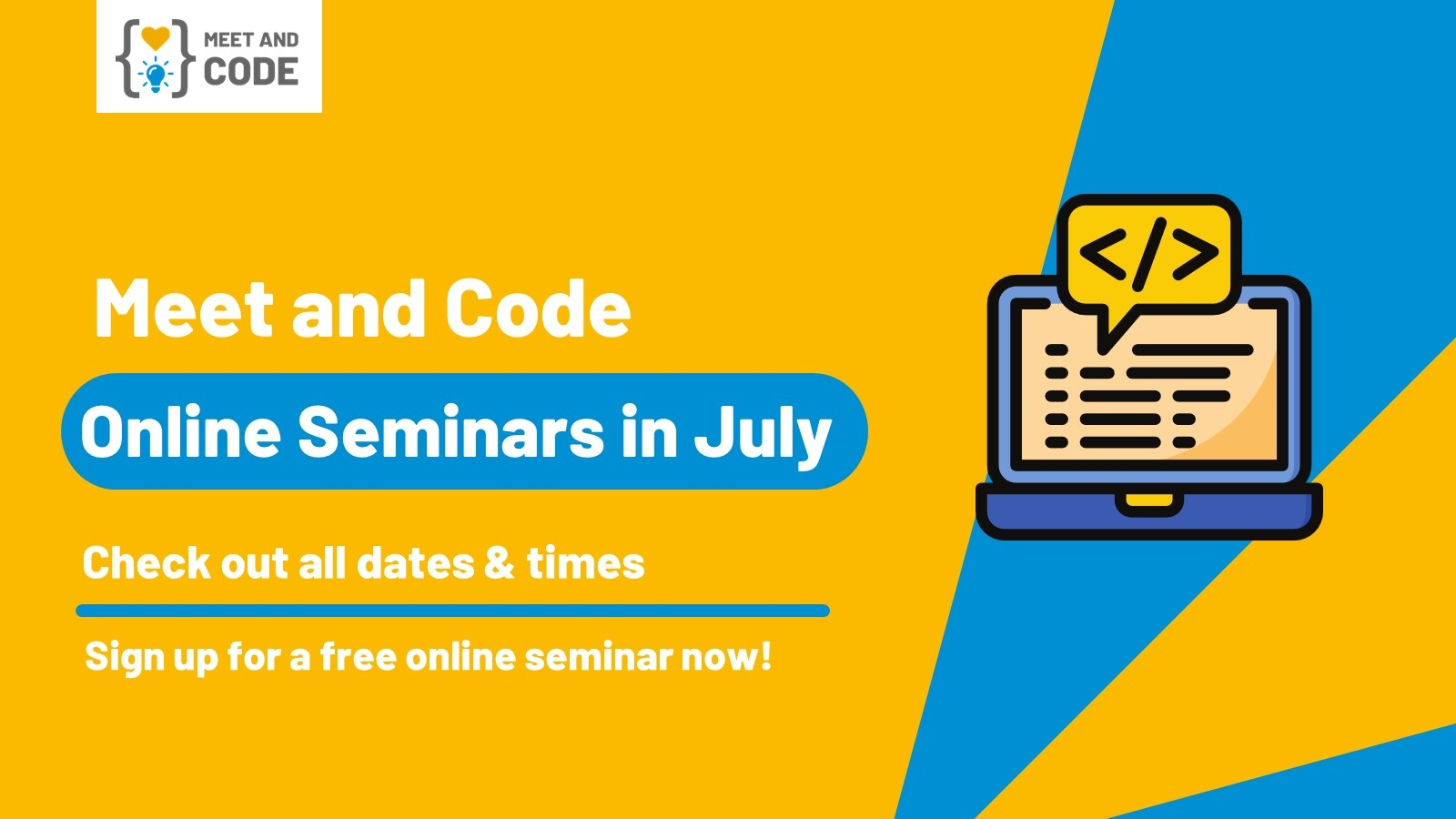 Are you planning your Meet and Code 2021 event and need some inspiration to get those creative ideas flowing? Have no fear, our Meet and Code Online Seminars are back, returning this July!
The online seminars aim to encourage and inspire NPOs who are planning their creative workshops for the 2021 Meet and Code initiative. Hosted in English, the seminars cover a broad range of topics centered around the exciting world of IT, from coding to digital education.

Geared to fast-track the adoption of digital skills amongst Europe's youth, Meet and Code's free online seminars will feature expert speakers and coaches from SAP. To give you an idea of what to expect, have a look out one of the fantastic seminars we hosted in May, where Jadga Huegle outlined the many exciting ways you can use Snap! which blew us away with her passion for the program.
Ready to be inspired? Check out the below line-up of workshops to learn best practices for your virtual events.

1. Jadga Huegle, July 15, 15:30 – 16:30

Title: Media Computation: learn a fresh way of programming with Snap!

Have you ever wanted to turn your own voice into a musical instrument? Wished for your sunset shots to outshine your holidays? Or wondered how to engage your participants with "Big Data" and "higher-order functions"?
SAP coach Jadga Huegle is back with a seminar to explain how Media Computation can assist with teaching general purpose programming by playing with the ingredients of your favorite pictures, music, movies, and books. With this topic you'll be able to attract non-traditional audiences to your event, extend your portfolio of fun projects, and even delve into advanced blocks-based programming.

About the speaker:
Our expert speaker, Jadga Huegle, was originally a biologist and discovered her interest in Computer Science (CS) while building a small, connected greenhouse. Since then, she has become a Snap! and CS education devotee and is eager to share her excitement with the world. Jadga works for SAP's Snap! team and develops learning resources for schools and workshop facilitators.

Watch the recording here.

2. Roland Martin, July 19, 16:00-17:00

Title: Innovation powered by the Design Thinking Mindset

Have you ever needed to come up with a great idea and instead of inspiration you're faced with desperation? Well not to worry, that's exactly what all great innovators go through! So, you're in good company.
In this short talk, our expert speaker and coach, Roland Martin, will give an introduction and overview of the Design Thinking Mindset. He'll outline what the crucial building blocks are and how to apply them to improve innovation followed by some tips on how to "kick-start" innovation using the Design Thinking Mindset.

About the speaker:
Roland Martin is a Data Scientist at SAP who enjoys Design Thinking so much that he often has trouble getting his Data Science work done because he's busy engaging in Design Thinking training and activities. Roland's favorite thing about his work is that he can activate both his brain hemispheres by using mathematical logic and creativity at the same time.
Roland is a strong believer in sharing knowledge and invests a good portion of his time helping new and soon-to-be coaches to get a grip on Design Thinking and find their confidence to teach it on their own.
Roland considers himself the Batman of SAP – a Data Scientist by day, solving hard mathematical problems, and by night, he follows his passion of helping teams drive innovation to solve end-user's problems and make the world run better.

Watch the recording here.

3. Lukas Ackermann, July 29, 16:30-17.30

Title: Code your own Smart City with Snap!

Over half the world's population resides in cities with forecasts showing that urban populations will double by 2050. As these areas are where most buildings and economic activities are centered, the risks of climate change, such as heat stress, security of the supply and quality of water and food, as well as rising sea levels, are more concentrated and impact the people living there.

Lukas Ackermann from SAP will address this topic by exploring a playful approach using the block programming language SNAP! to build a 'smart city' district that thematizes these challenges in a fun 'serious game' way. This is done by linking the interdisciplinary knowledge of computer science and geography, while discussing how to present smart cities and sustainable development goals (SDGs) in an innovative and exciting manner for young people. He aims to inspire them to make cities more resilient to climate change or promote sustainable development in general which will benefit climate adaptation on a global scale.

About the speaker:
Lukas Ackermann is a working student in the SAP Next-Gen team and is also a computer science, geography, and economics teacher in Vienna, Austria. He enjoys creating new formats and testing different learning methods to connect the younger generation of today with future aspects of a world that is constantly changing.

Watch the recording here.