Join our expert speakers at the Smart Country Con
Are you passionate about innovation, digitization and transformation?
Smart Country Convention
20.10.2021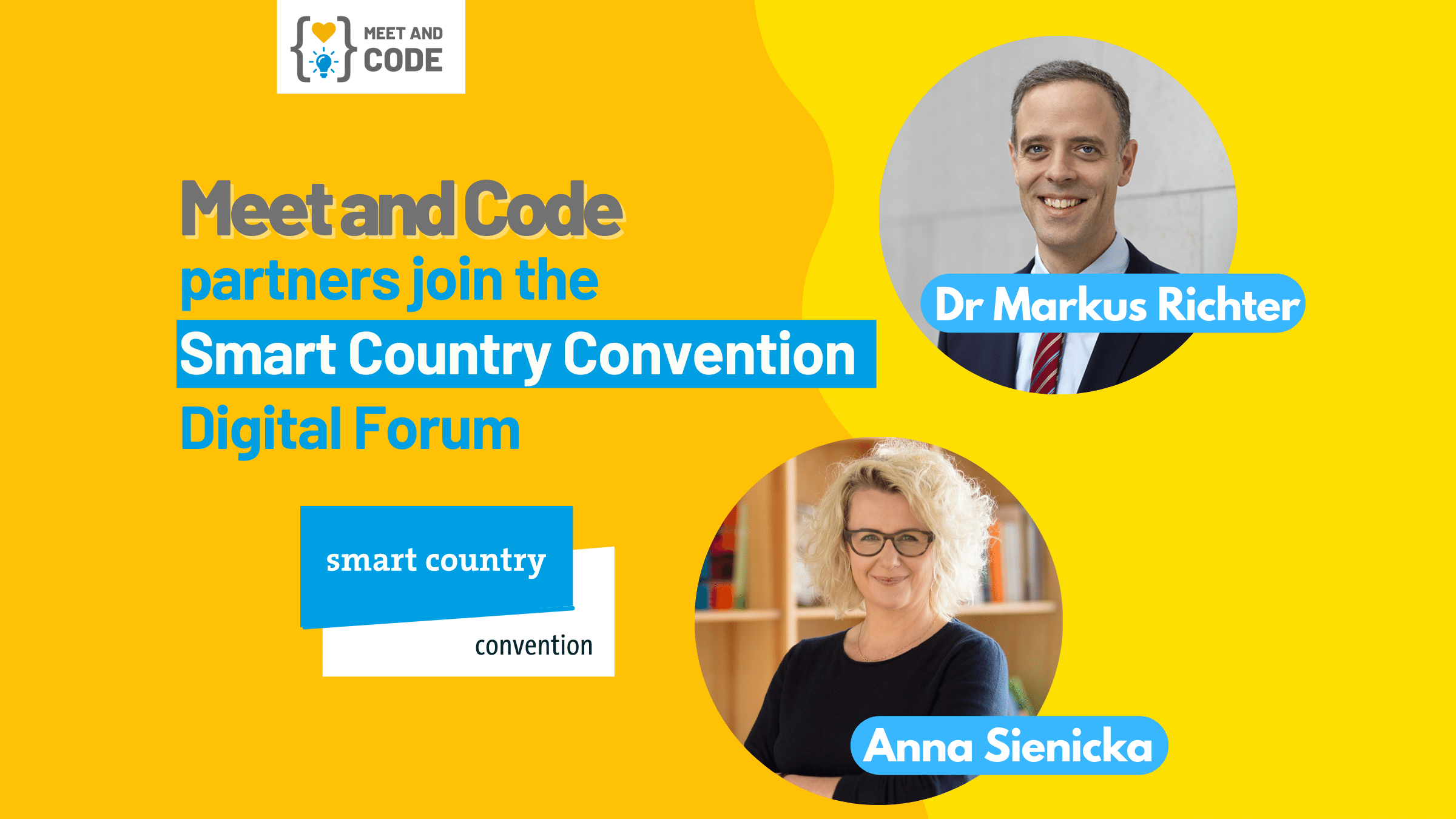 Meet and Code is excited to announce that our very own Anna Sienicka will be discussing the digital transformation of civil society and the public sector at this year's free-for-all Smart Country Convention on 26 October 2021 at 13:15-14:00 (CET).

She will be joined by our European partner, The Federal Ministry of the Interior, Building and Community's State Secretary Dr. Markus Richter and Maria de Fátima Fonseca (State Secretary Portugal), Monika Kirbis Rojs, (State Secretary Slowenia), Susanne Zels (Values Unite) and Dr. Julia Freudenberg (Hacker School).

The Smart Country Convention

The Smart Country Convention will take place virtually from 26-27 October 2021 and will be broadcast live from hub27. Attendees can look forward to learning about exciting topics, ideas and projects relating to e-government and smart cities.

Speakers at the event include national and international personalities from administration, politics, and various associations to renowned experts in science and the digital economy. They will outline feasibility strategies for sustainable technologies and approaches in public administration, urban planning, and municipal services, as well as how to make smart cities tangible. These discussions will take place across three different stages.

About Meet and Code's expert representatives

Meet and Code partners, Anna Sienicka and Dr. Markus Richter, will offer their unique expertise to the Smart Country Convention digital forum.

Sienicka is responsible for the strategic direction of TechSoup Europe. Her background includes capacity building for social enterprises, social and digital inclusion, civic technology, and the establishment of civil society-friendly policies and legal frameworks.

Dr. Markus Richter has a long history in federal office beginning in 2005, with assignments in human resources, organization, the office of the President and policy issues regarding integration and migration.

On 1 May 2020, Dr. Markus Richter was appointed State Secretary at the Federal Ministry of the Interior, Building and Community and Federal Government Commissioner for Information Technology.

Register for your spot, free of charge today

To attend the event and login to the event platform you will need a valid (free) ticket. Register here from 19 October 2021 to book your ticket and receive your login details which will be sent to you via email.

We look forward to seeing you there!