Meet and Code Award 2018
The Winners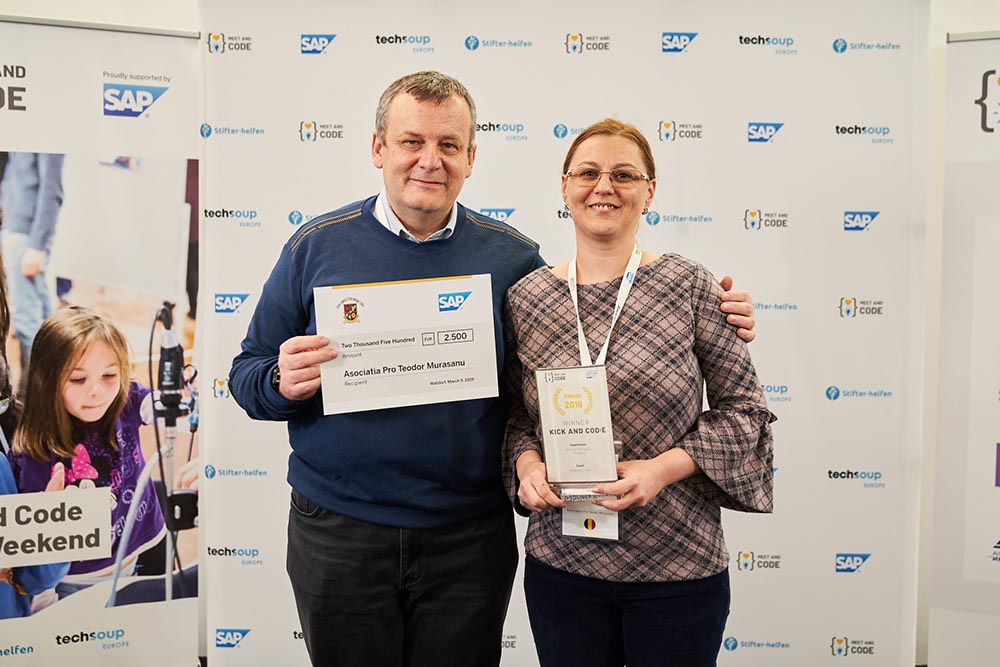 Category Kick and Code
Asociata Pro Teodor Murasanu, Romania
For their project:
"Scratch and… Gooal!"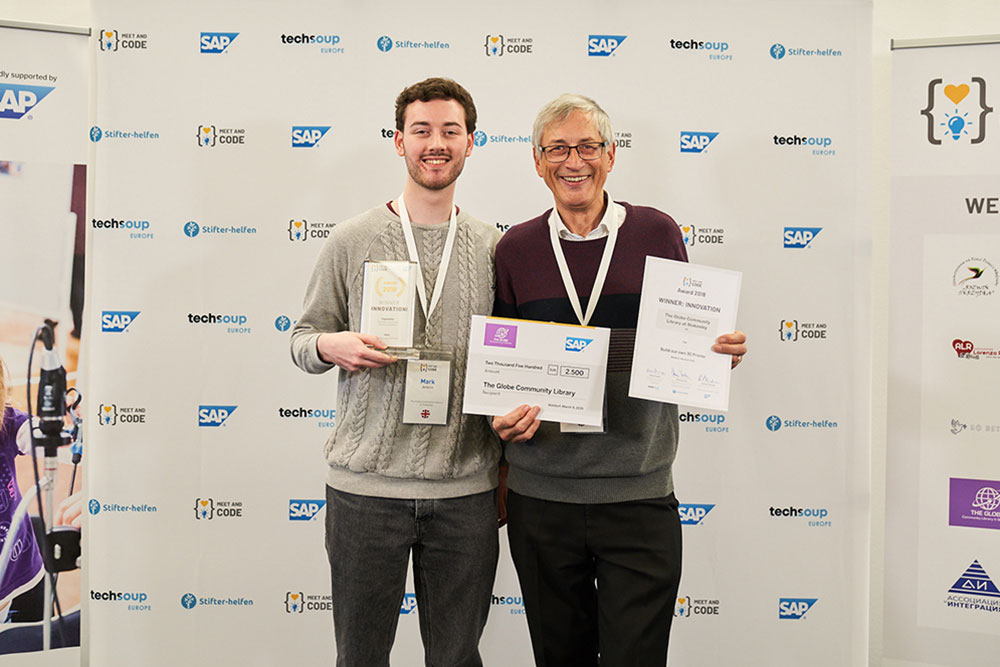 Category Innovation
Globe Community Library at Stokesley, UK
For their project:
"Build our own 3D printer"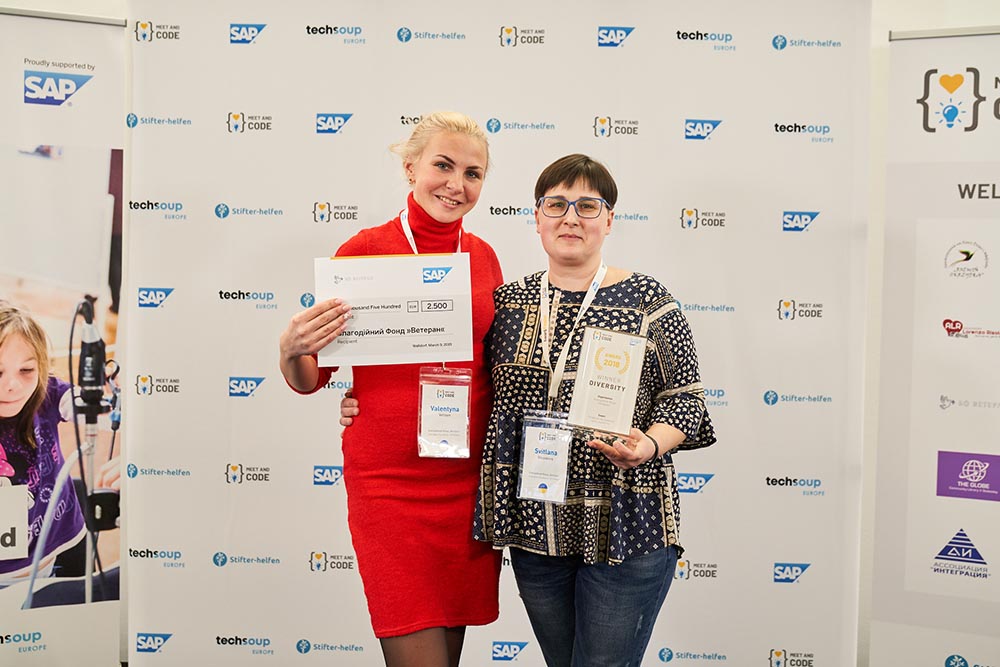 Category Diversity
Charitable Foundation "Veteran", Ukraine
For their project:
Master class "Profession of a programmer – a step into the future"
The Finalists
More than 700 events participated in the Meet and Code Award 2018 in three award categories. The Jury selected 15 exceptional events as finalists. Two representatives of each organization are invited to an Award Weekend at the SAP headquarters in Walldorf. In addition, the first place winner of each category will be announced in Waldorf and will receive a prize of 2.500 euros.
The finalists of the Meet and Code Award 2018 are:
Categories
Kao novitet ove godine, Meet and Code će nagrađivati najbolje događaje koji služe kao uzor i njihove aktivnosti će prezentirati u javnosti. Nagrade će se dodjeljivati za tri kategorije:
Kick and Code (godišnja tema)

Meet and Code događaji koji imaju za cilj rješavanje fudbalskih problema putem informacionih tehnologija, ili događaji koji koriste fudbal kao temu, kako bi se programiranje približilo djeci. Pažnju ćemo poklanjati događajima koji povezuju ove dvije teme na kreativan i svrsishodan način, kako bi se došlo do ciljane grupe i kako bi im se približio svijet programiranja i IT-ja.

Innovation

Meet and Code događaji koji razvijaju i promoviraju načine kreativnog podučavanja i/ili istražuju trenutne IT/programerske teme. Interesuju nas događaji koji su inovativni u smislu dopiranja do ciljne grupe i svoje povezanosti sa temama koje se tiču IT-ja, kao i događaji koji su u vezi sa modernim trendovima u tehnologiji, kao i oni koji imaju veze sa radikalnim i tehnologijama koje utiču na oblikovanje budućnosti, kao što su IoT, Blockchain, AI, 3D štampanje, itd.

Diversity

Meet and Code događaji koji koriste IT ili druge digitalne teme kako bi na taj način istakli prisustvo nejednakosti u svojim zajednicama ili u društvu uopšte. Tržimo događaje koji će za cilj imati jačanje jednakih mogućnosti, koji promoviraju toleranciju, a uklanjanju nejednakosti zasnovane na spolnoj, rasnoj, vjerskoj ili društvenoj pripadnosti, invalidnosti, ekonomskom ili društvenom statusu itd.
Sudije za Meet and Code nagradno izvlačenje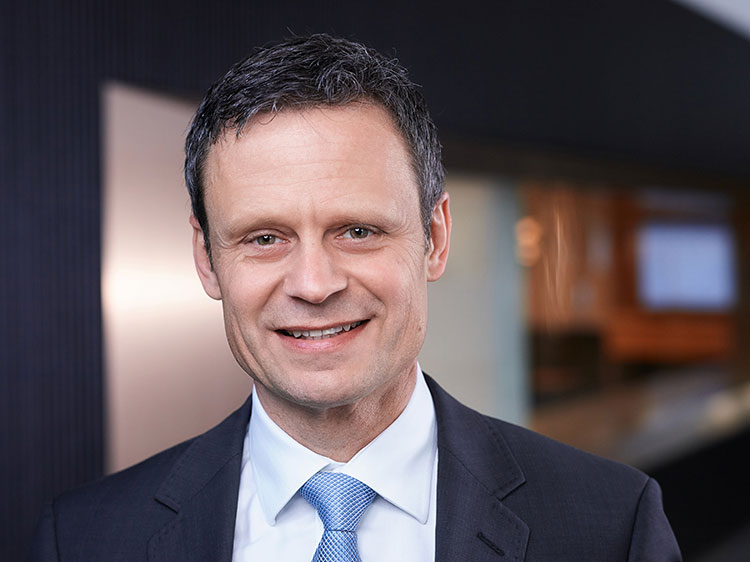 Dr. Bernd Welz
Izvršni potpredsjednik i direktor odjela za razvoj, SAP SE
Dr. Bernd Welz je izvršni potpredsjednik i direktor odjela za razvoj na SAP SE. On je odgovoran za prenošenje opšteg znanja SAP-ovim klijentima, partnerima i ostalim spoljašnjim saradnicima. Kao ekspert za digitalnu edukaciju i edukacijske tehnologije, član je Upranog vijeća EU za digitalne vještine i poslovne koalicije, kao i univerzitetskog vijeća na Heidelberg univerzitetu. Welz se pridružio SAP-u 1997. godine. Od tada se zatekao u ulozi transformacijskog vođe nekoliko puta, a između ostalog je bio zadužen i za fondaciju SAP cloud servisa. Prije nego se pridružio SAP-u, bio je savjetnik za strategije na Roland Berger Strategy Consultants u Njemačkoj i Ujedinjenom Kraljevstvu. Welz je magistar Kompjuterskih nauka na Masačusetskom Univerzitetu, a također posjeduje i doktorat iz oblasti umjetne inteligencije sa Karlsruhe Instituta za Tehnologiju, Njemačka.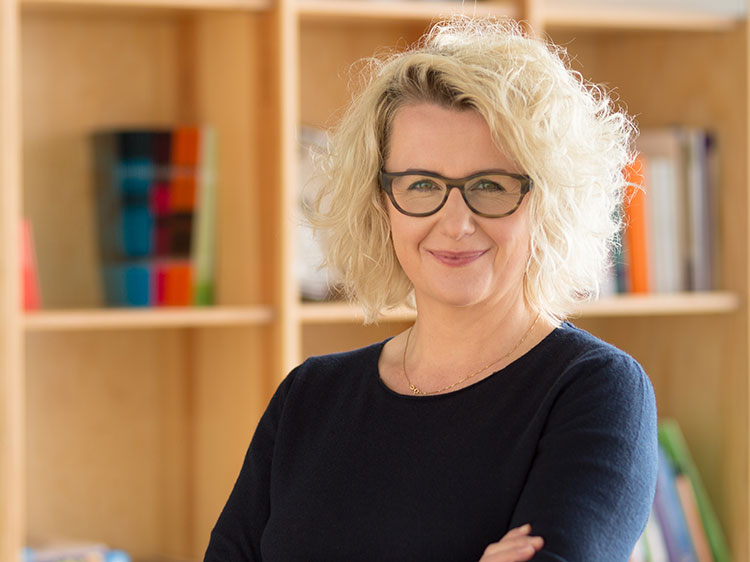 Anna Sienicka
Potpredsjednik TechSoup Europe, Varšava
Anna Sienicka je odgovorna za strateške puteve evropskog TechSoupa. Ona vodi razvoj TechSoup Europe mreže. Mreža se sastoji od 24 organizacije za jačanje kapaciteta koje su aktivne u 44 zemlje i pomaže preko 400,000 registrovanih nevladinih organizacija kojima je omogućila uštedu preko milijardu eura od svoga nastanka. Njene dužnosti obuhvaćaju glavnu ulogu u razvoju i skaliranju društveno orijentisanih tehnoloških rješenja u cijeloj mreži i regiji.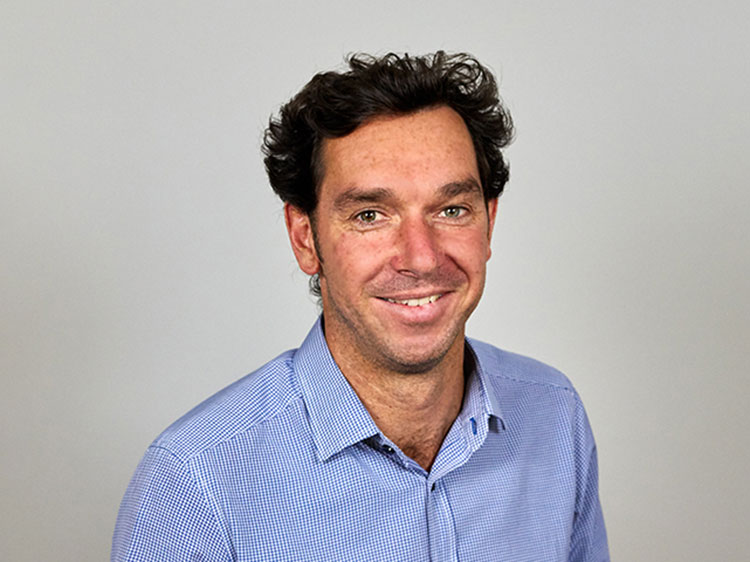 Clemens Frede
Direktor razvoja biznisa i član Odbora za menadžment, Haus des Stiftens gGmbH, Minhen
Clemens Frede je član odbora za menadžment i direktor razvoja biznisa u Haus des Stiftens gGmbH. U posljednjih deset godina, on je razvio i proširio IT portal Stifter-helfen sa preko 40 partnera i 60,000 registrovanih neprofitnih organizacija. U bliskoj je saradnji sa klavnim igračima IT industrije i posjeduje dugotrajno iskustvo u neprofitnom sektoru.