Amazon & SAP join hands to level-up Meet and Code
Amazon joins Meet and Code as a major donor to make coding and digital skills accessible to underserved youth across Europe.
#MeetandCode #amazonfutureengineer #SAP4Good #DigitalSkills4All #collectiveimpact
26.04.2023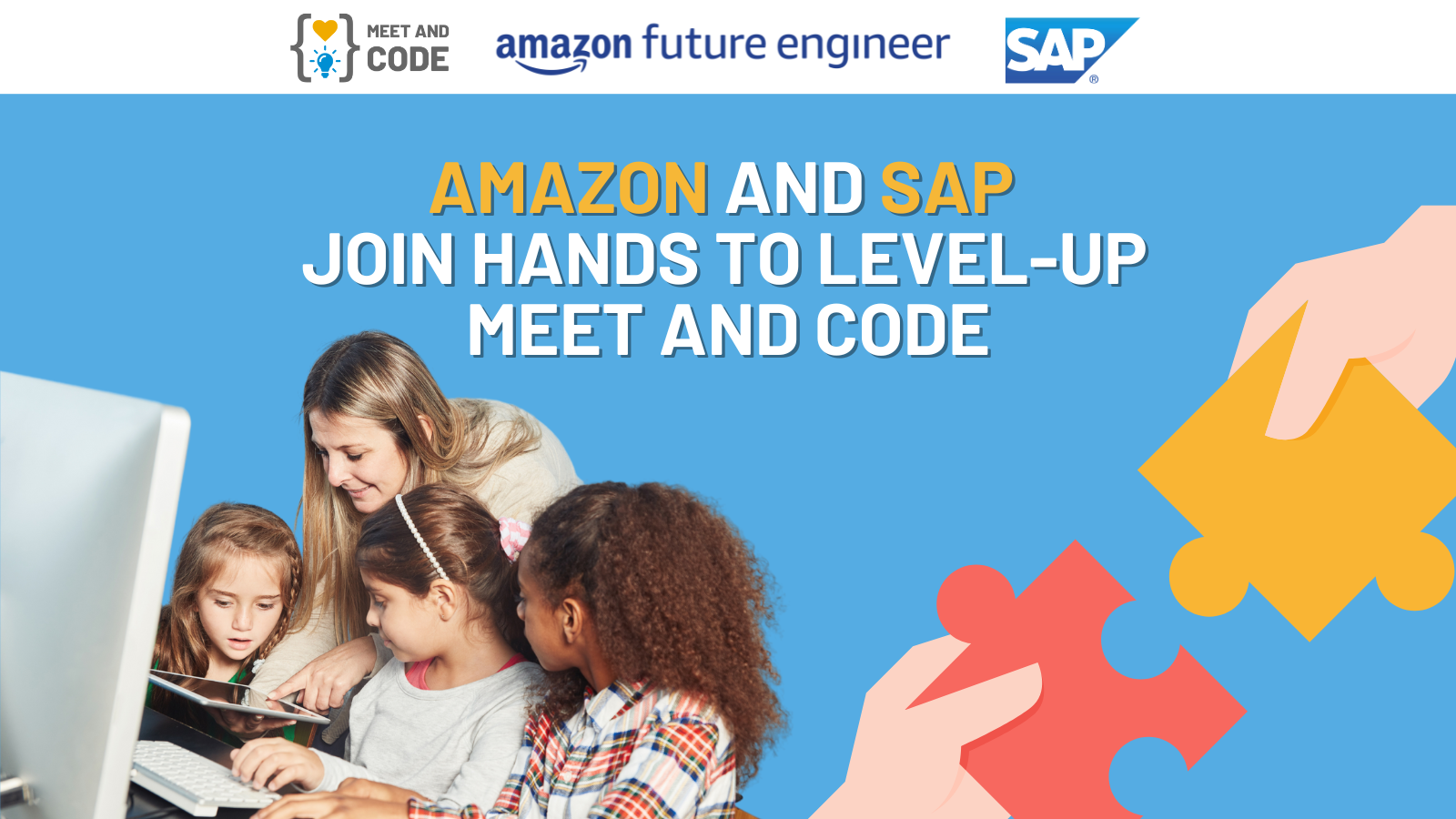 In today's rapidly evolving digital landscape, basic digital skills have become increasingly essential. The European Commission has set a target to have 80% of EU citizens equipped with these skills by 2030, with the hopes to fuel the growth of the tech industry and boost employment rates. Amazon and SAP have joined hands in this collective impact initiative to make sure young people from underserved and underrepresented communities are not left behind in Europe's quest for digital skills for all.

Amazon's Europe Lead for Education, Michael Vollmann, says, "Regrettably, not all individuals in Europe have the resources to enhance their digital skills, which has resulted in unequal opportunities for youth. This is why Amazon is committed to advancing computer science education to enhance accessibility."

"By doing so, we can empower and broaden future opportunities for young people, promote greater educational equity, and contribute to diminishing inequality," he adds.

Amazon is no stranger to the Meet and Code Family as they have been a local partner in several Meet and Code countries, but this year they have decided to go all in and become on board as a major donor. Through this Meet and Code becomes the biggest collaborative impact initiative for digital education in Europe.

Why Amazon is positioned to take Meet and Code to new heights

Meet and Code takes pride in collaborating and joining forces with companies that share their vision and recognize the importance of providing students from all walks of life with the necessary skills for the future.

"We work with experienced partners in the NPO sector to promote educational equity for underserved and underrepresented communities," Vollmann highlights. "This is because we believe that bringing together strong partners who share the same vision of empowering all young Europeans with access to computer science education and by demystifying careers of the future has a positive impact on building digital skills in Europe. This partnership has the potential to evolve into a strong and broad-based alliance that expands and deepens its collaboration, creating new opportunities for disadvantaged youth in coding and programming."

Beyond Meet and Code, Amazon's Future Engineer Program has other amazing initiatives that support the empowerment of young people, these include the following:

- Class Chats, where Amazon employees deliver career talks in school classes to help students better understand the tech industry.

- Scholarships and mentorships for university students from disadvantaged households studying Computer Science.

- Providing open educational resources (OER) on digital skills and technical devices, capacity training, further education and up-skilling to teachers.

- Several digital Challenges (like the Alexa Young Innovator Challenge), teach students the basics of computer science.

The Story of Meet and Code

When SAP, Haus des Stiftens and TechSoup Europe conceptualized Meet and Code, the vision was to launch an initiative that continued beyond the educational needs of children by also supporting the United Nations Sustainable Development Goals (SDGs) to help the world run better.

One of the SDGs that Meet and Code aligns with is SGD 17, which speaks about collaboration and partnerships between governments, the private sector, and civil society as vital to achieving any sustainable goal. The partnership does not just provide young people with the tools to succeed, but it also opens up a world of opportunities and possibilities that they may not have had access to otherwise.

Without a doubt, Meet and Code, SAP and Amazon share a common goal of making computer science and digital skills accessible to all students, regardless of their background. The stakeholders all recognize the importance of supporting underserved communities and providing opportunities for young people to pursue careers in technology. Together with all partners, the Meet and Code initiative is in a perfect position to ensure a brighter, more inclusive future for all.