Community (Kodiraj za svojo skupnost)
Lokalna skupnost je varnostna mreža za svoje prebivalce.
#grant #nonprofits #meetandcode #codeEU @sap4good #STEM #GlobalGoals #stemeducation #stemforkids #codinggirl #codingfun #digitalskills #Europe
13.06.2019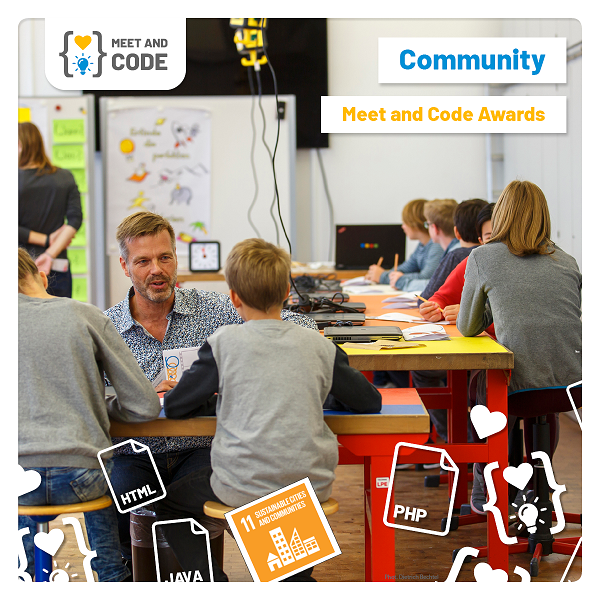 Lokalna skupnost je varnostna mreža za svoje prebivalce. Kodirajte za svojo skupnost, sodelujte v nagradnem natečaju Award 2019 in dobite nagrado!
Kategorija nagradnega natečaja Meet and Code Award 2019 Code for the planet je povezana s Cilji trajnostnega razvoja (Sustainable Development Goals - SDGs).

Cilj 11: Narediti mesta vključujoča, varna, prožna in trajnostna

Dejstva:
Polovica človeštva - 3,5 milijarde ljudi - danes živi v mestih in do leta 2030 naj bi v mestih živelo 5 milijard ljudi.
95 odstotkov urbane širitve v naslednjih desetletjih bo potekalo v državah v razvoju.
Danes v slumih živi 883 milijonov ljudi, večina jih je v vzhodni in jugovzhodni Aziji.
Svetovna mesta zavzemajo samo 3 odstotke zemeljske zemlje, vendar predstavljajo 60–80 odstotkov porabe energije in 75 odstotkov emisij ogljika.
Hitra urbanizacija pritiska na zaloge sveže vode, kanalizacijo, bivalno okolje in javno zdravje
Od leta 2016 je 90% mestnih prebivalcev vdihovalo nevarni zrak, kar je povzročilo 4,2 milijona smrtnih žrtev zaradi onesnaženosti zunanjega zraka. Več kot polovica svetovnega mestnega prebivalstva je bila izpostavljena ravni onesnaženosti zraka, ki je bila vsaj 2,5-krat višja od varnostnega standarda.
vir:
https://www.un.org/sustainabledevelopment/cities/