About
Behind Meet and Code
Behind Meet and Code are SAP, Haus des Stiftens gGmbH and the respective country partners of the TechSoup Europe network. SAP enables the Meet and Code initiative through financial support and other resources for nonprofits. Haus des Stiftens gGmbH is responsible for the initiative, for the selection of the projects in Germany, Austria and Switzerland, as well as general management of the project and the coordination of funding by the responsible managing country partners of the TechSoup Europe network. TechSoup Europe partners are responsible for coordinating the initiative and selecting the events to be supported in their respective countries. Meet and Code was co-developed by Haus des Stiftens and SAP.
Haus des Stiftens, a charitable limited company in Germany, operates the IT portal Stifter-helfen in Germany, Austria and Switzerland. The Stifter-helfen IT portal provides non-profit organizations in these countries with product donations and special conditions from well-known IT companies as well as know-how about modern technologies. In Germany, the IT portal was launched in 2008, in Austria in 2012 and in Switzerland in 2013.
TechSoup Europe is a part of the TechSoup Global Network. Together with 24 partner organizations representing many different areas: capacity building, civic engagement, social innovation, or digital inclusion, it helps over 400,000 nonprofits in 48 European countries build their capacity. The network equips changemakers with IT products, knowledge, and services so they may benefit from technology and focus on their mission to make social change.

Goal
The goal of Meet and Code is to introduce children and young people between the ages of 8 and 24 to the world of technology and coding. The events are designed to show young people how much fun coding can be and how it can help bring ideas to life. They should learn how technology works and how IT affects our daily lives. By exploring a broad range of technology and digital topics and creative coding, they will be encouraged to develop the digital skills they need in today's world.
The Idea
The EU Code Week initiative was launched in 2013 by the Young Advisors, an advisory group of former EU Commissioner for Digital Agenda Neelie Kroes, and is supported by the European Commission. This year, the EU Code Week will take place between 5th-20th October 2019.
Meet and Code promotes science and technology related events of all kinds in the context of and during the EU Code Week – with up to 500€ seed money per event. Furthermore, we support event organisers and trainers by collecting and sharing content and resources at the Meet and Code Inspiration Library.
Target Group
The target group for the events are children and young people between 8 and 24 years, who are to be introduced to the world of technology and coding.
Event Organizers
Different social groups, such as schools, IT professionals, companies or computer clubs may plan and implement events for the target group. However, the promoter and organizer of an event must be a charitable organisation, such as a school development association, to receive the funding.
Applications
Event ideas can only be submitted online on www.meet-and-code.org from 03.06.2019 until 08.09.2019. Organisations are welcome to submit several different event ideas. Every event idea is assessed by the TechSoup partner. The best ideas will receive grant money up to 500 €.
More information about the conditions of participation can be found here ...
Event Formats
Possible events include hackathons, coding workshops, lectures, film events, competitions, coding nights, robotics classes or other formats.
If you're looking for inspiration or interesting resources for an event, presentation or workshop, visit our Meet and Code Inspiration Library.
Countries
The Meet and Code initiative supports digital and coding events in the following countries: Austria, Belgium, Bosnia and Herzegovina, Bulgaria, Croatia, Czech Republic, France, Germany, Hungary, Ireland, Italy, Kazakhstan, Netherlands, North Macedonia, Poland, Portugal, Romania, Russia, Serbia, Slovakia, Slovenia, Spain, Switzerland, the United Kingdom and Ukraine.

Our Team
Meet the team members from all organizations that are behind Meet and Code. We are responsible for the Europe-wide coordination of the initiative.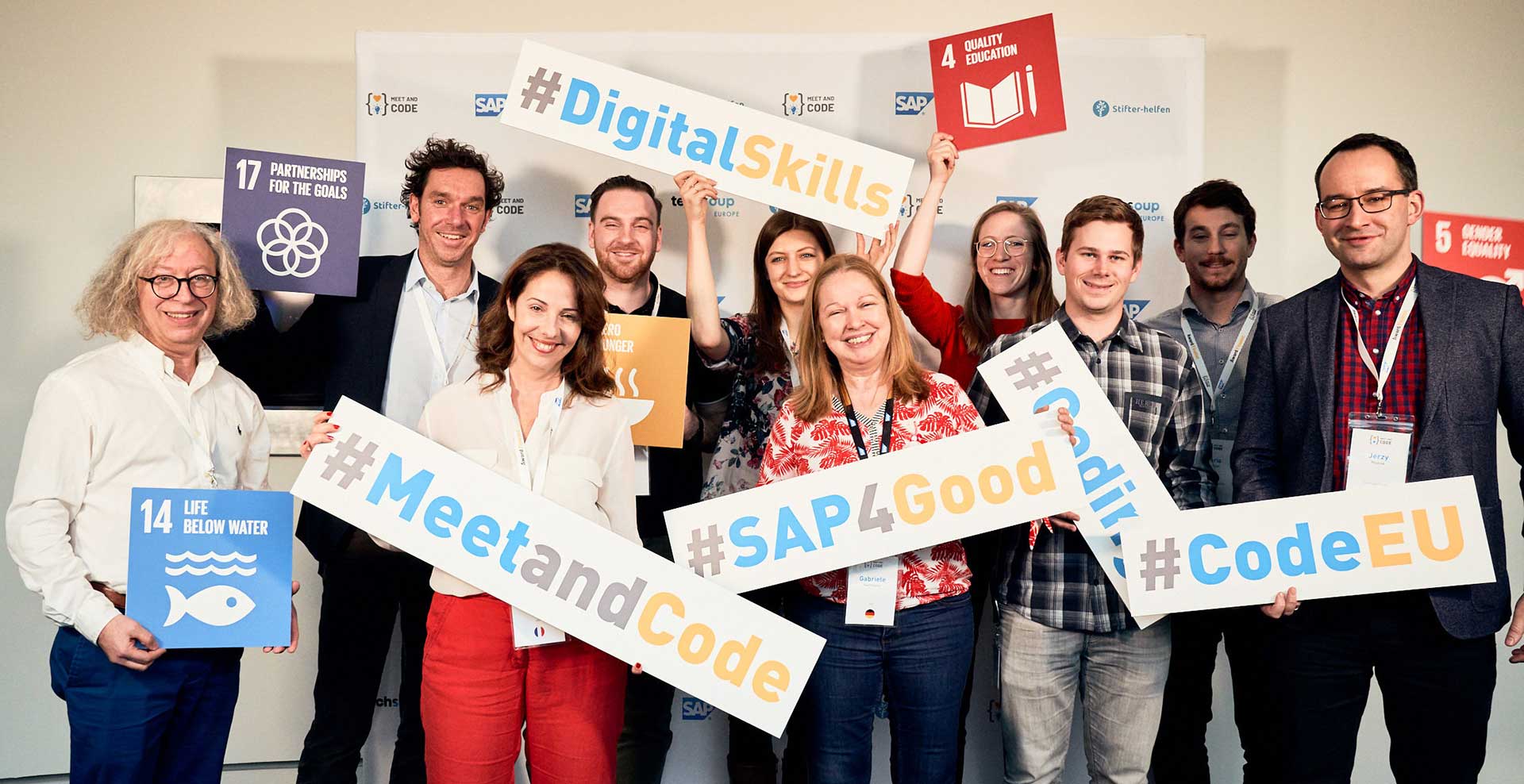 The Meet and Code Team at the Award Weekend in March 2019. From left to right: Michał Szwarc, TechSoup Europe; Clemens Frede, Stifter-helfen; Claire Gillissen-Duval, SAP; Philip Träutlein, SAP; Ania Lenartowicz, TechSoup Europe; Gabriele Hartmann, SAP; Lisa Gerstner, Stifter-helfen; Dennis Messer, innofabrik; Mario Strasser, Stifter-helfen; Jerzy Nowak, TechSoup Europe.

Meet your local team in [your country]! They ensure that you can easily apply for Meet and Code in your country and always receive all the support you may need during the process.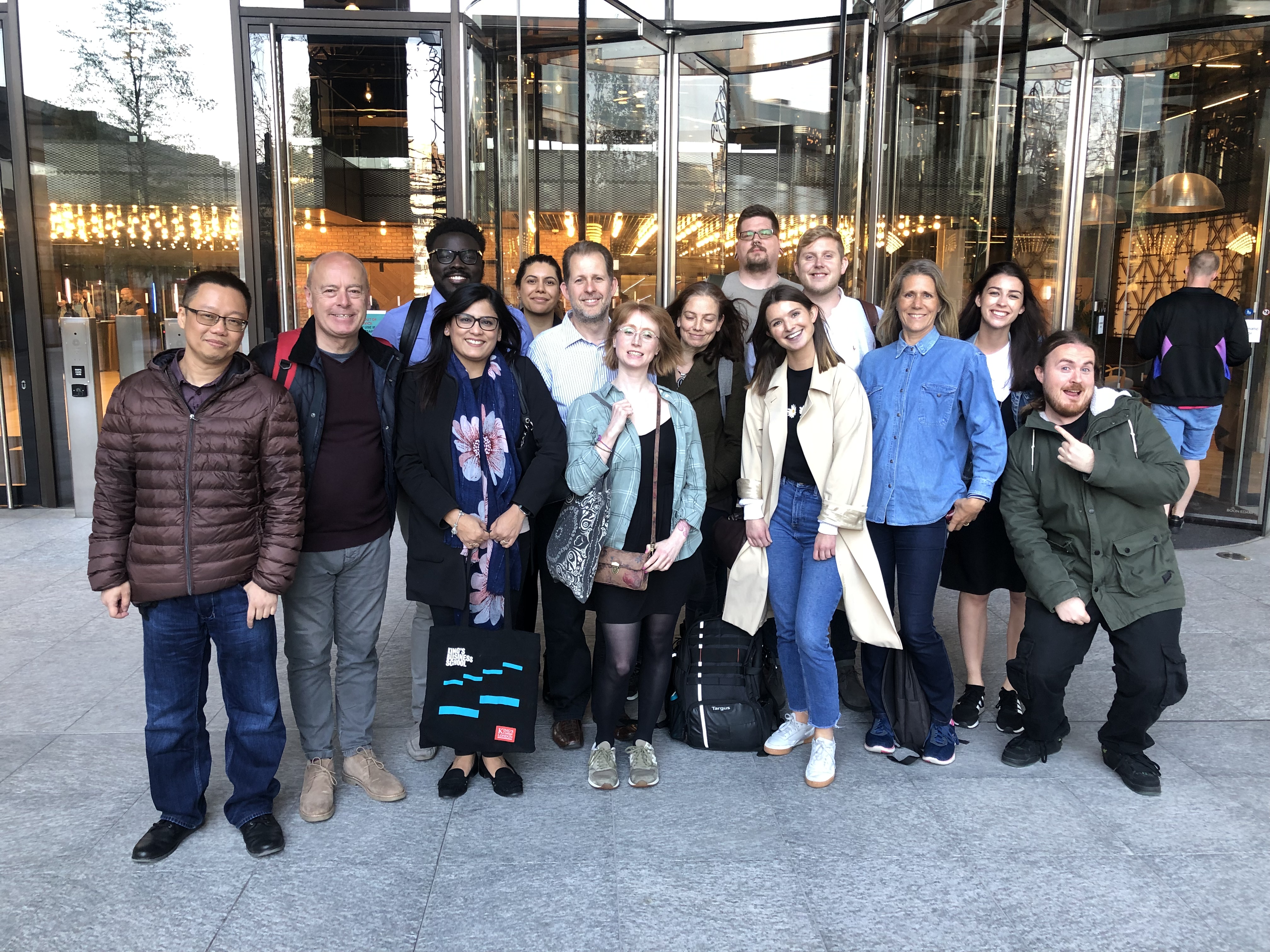 [YOUR DESCRIPTION OF THE LOCAL TEAM PHOTO]