Ceremonia de Meet and Code Awards
Únase a nosotros para la Ceremonia de entrega de Meet and Code Awards en directo el 28 de abril a las 14:30
#MeetandCode #DigitalSkills #DigitalImpact
21.04.2022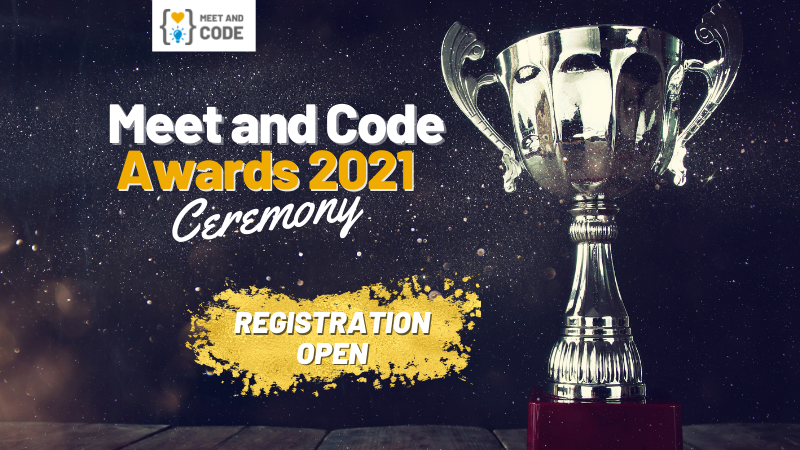 ¡El jurado ha hablado! Estamos encantados de anunciar a los ganadores de los premios Meet and Code Awards 2021 en un emocionante evento virtual, y estás invitado.

Únate a nosotros en la Ceremonia de entrega de premios Meet and Code el jueves 28 de abril, de 14:30 a 16:00 CET, donde será testigo de cómo nuestros inspiradores ganadores reciben sus premios, escuchará palabras inspiradoras de nuestros socios y conocerá lo que está reservado para Meet and Code 2022.

A pesar de otro año desafiante, nuestro estimado comité del jurado de Meet and Code seleccionó una lista estelar de 15 finalistas, tres en cada una de las cinco categorías de los premios Meet and Code: Girls do IT!, Community, Diversity, Code for the Planet, Code for Europe. En este evento en vivo de aproximadamente 90 minutos, celebraremos a todos los finalistas y anunciaremos a los ganadores de cada categoría de premios que ganarán premios en metálico de 2.000 euros cada uno.

Para asistir a esta celebración, regístrese con anticipación para la ceremonia de premiación aquí:
https://sap-se.zoom.us/webinar/register/WN_hosD4CPYQPy6HvQ5zKpolg

¡Esperamos verte allí!