Introducing the Meet and Code 2021 Winners
2021 was a milestone year for us as we celebrated our 5th year of igniting the passion of young Europeans to develop their digital skills which are vital for their future.
#MeetandCode #DigitalSkills #DigitalImpact
28.04.2022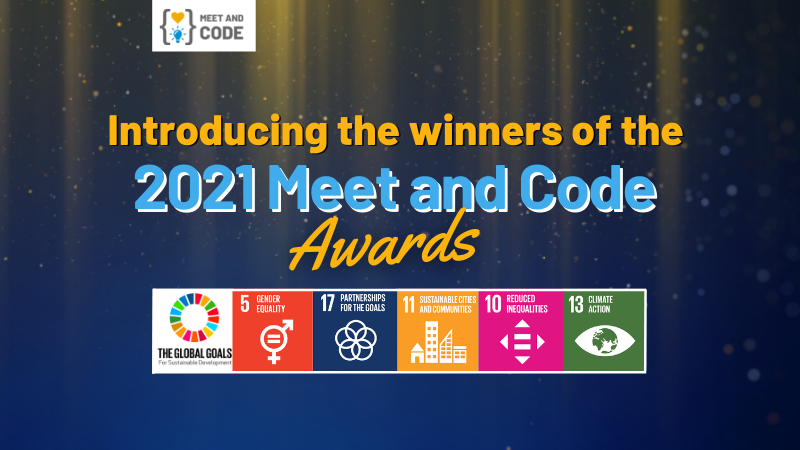 We are so proud to reach this achievement, especially whilst navigating a global pandemic.
However, Meet and Code would not be possible without the hard work and dedication of our non-profit organizations which is why we award the most creative events that inspire youngsters about coding each year. This year's categories include: Girls do IT! Community, Diversity, Code for the Planet and Code for Europe. Each of these categories is in support of the United Nations Sustainable Development Goals (SDGs) and is aligned with EU Code Week.

Winners of each category receive a whopping 2000 euros in prize money.

We proudly announced this year's winners during a virtual awards ceremony on Thursday, April 28, where 66 participants from across Europe celebrated the outstanding work of all the finalists and winners.

Without further ado… please join us in giving a big round of applause to our winners:
Girls do IT!: As we know, gender equality plays an important role in today's modern and inclusive society. This award category aligns with SDG 5 "Gender Equality" and aims to help close the gender gap in IT and coding. For this category, we seek creative events that breakdown gender stereotypes and empower girls.
And the winner is:
No More Fairy Tales: Video Game Workshop, Rebel Narrative, and Coding for Girls
by Sorora e.V. from Germany.
We chose this winner because the event made an excellent effort to strengthen women's self-confidence and resilience. Although it was targeted at women, it was not a stigmatized female topic, but rather used a feminist approach. Not only were the girls taught coding, but they learned about storytelling and teamwork.
Code for the Planet: For this award category, we look for events that combine coding and actions for the planet. These include initiatives that help improve climate change education by raising awareness as a contribution to SDG 13.
And the winner is:
Capturing Bees with Micro-Controller
by Lebenshilfe Ennstal from Austria
This workshop won because it was greatly aligned with the category and raised awareness on an important environmental issue. It taught participants how to use straightforward coding knowledge and cost-effective hardware to learn more about the natural environment. This workshop had a great impact on the participants who were visibly moved that they were part of working towards environmental sustainability.
Community: Events in this category take local aspects and customs into consideration and think about community needs. The events should bring people of similar interests and neighbourhoods together through the passion of Meet and Code.
And the winner is:
Model your Dream City
organized by Sharing Europe from Italy
We chose this event because it gave participants the opportunity to make their voice heard as well as learn about other cities and cultures. The workshop combined the usage of various digital tools and allowed participants from different cities to collaborate.
Diversity: As we know, only a diverse and inclusive world secures our future. Diversity embraces and welcomes all the differences that make us all so unique. As embodied in SDG 10 "Reduced Equality", this category looks for the best event ideas that inspire children and young people - not only for IT and for coding, but also for a world with equal opportunities and appreciation.
And the winner is:
We Can Code! Tactile Scratch for Visually Impaired Students
by
Association for Development and Environment - ADEMED from Romania.
This inclusive event empowered visually impaired students and their teachers and challenged them to practice coding in real-life situations. It also showed that visually impaired students can learn programming without expensive equipment, which is especially of great importance for those who lack financial resources.
Code for Europe: For this award category, we look for events that seek to initiate cross-border collaboration between companies and unite children of different backgrounds and locations. This category is linked to SDG 17, partnerships for the goals.
And the winner is:
Open the Data
by Connection4Innovation APS from Italy.
This event was chosen because it taught participants skills that could give them an important competitive advantage in each and every activity they are going to be employed in while focusing on environmental issues impacting European cities. The subject of the workshop was interesting and topical, bringing together young people to learn the practical use of coding.
Congratulations to all our 2021 winners! We look forward to seeing the work you continue to do to improve youth's digital skills across Europe. Here's to Meet and Code 2022.