Be inspired: the MAC Purpose Talks are here!
Meet and Code is excited to announce the launch of the Meet and Code Purpose Talks! Get to know more about the series below!
#meetandcode #purposetalks
13.04.2021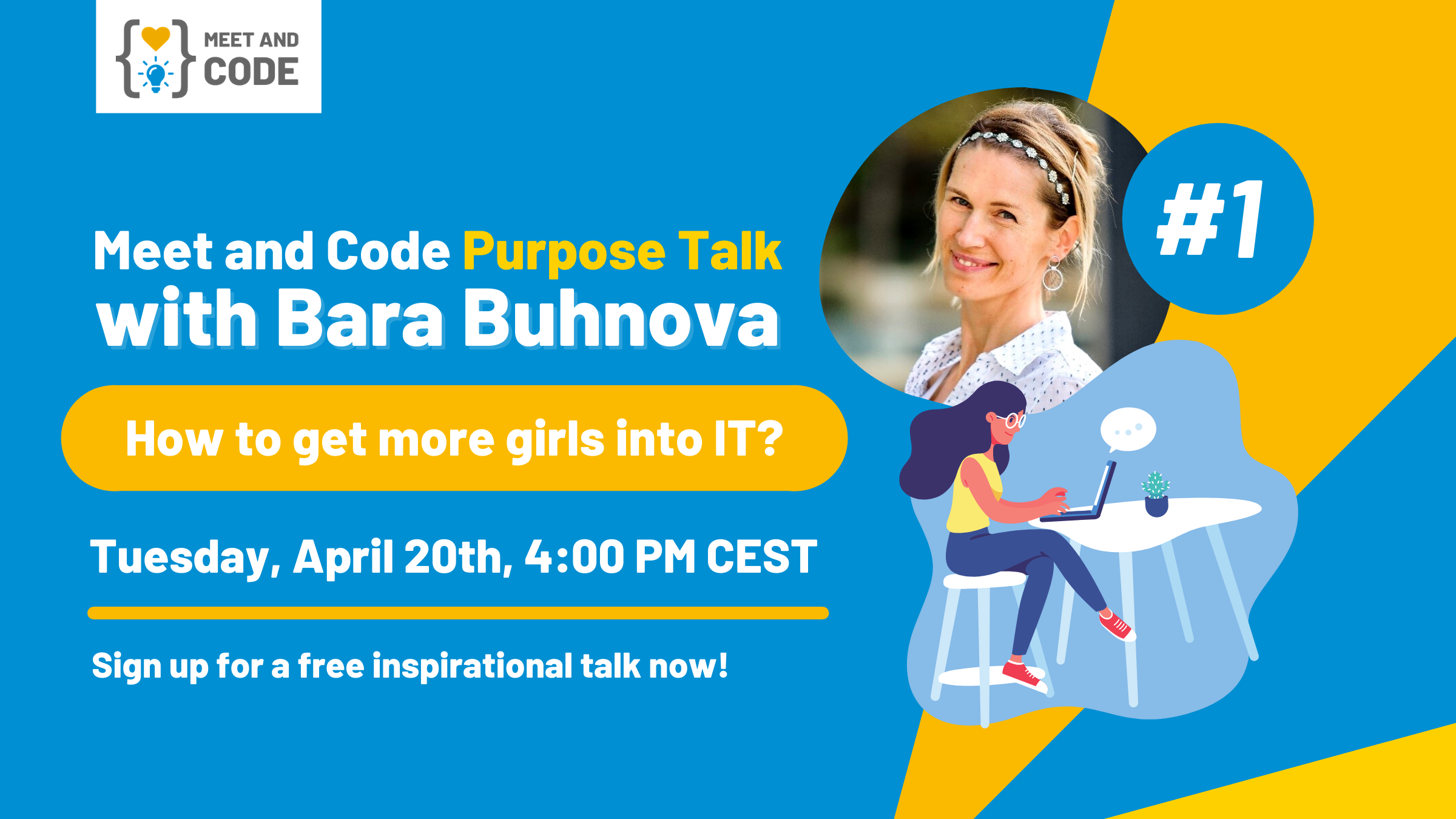 Now in its fifth year, Meet and Code remains Europe's favorite digital skills program for youth, and continues to grow in popularity and reach. This growth has added fuel to our purpose of promoting digital inclusion, by fostering knowledge-sharing and innovative ideas that prepare young people for the digital economy that lies ahead. With this in mind, Meet and Code is excited to announce the launch of the Meet and Code Purpose Talks!

Get excited about Purpose Talks

The Meet and Code Purpose Talks are a bi-monthly series of online virtual conferences and panel discussions designed to inspire the community of non-profit organisations (NPOs) with learnings and experiences from thought leaders in the exciting world of ITC. The one-hour platform invites NPOs from across Europe to connect, collaborate and converse about the importance of digital learning. The Q&A segments are also an opportunity for nonprofits to pick the brains of industry experts!

Kicking off with girl power!

Co-founder of Czechitas, Bara Buhnova, will be our exciting guest speaker at the inaugural Purpose Talks event to be presented via Zoom on April 20th, 2021. Watch the recording here.

Czechitas is the most popular diversity-oriented platform for informal education in technology and computing in the Czech Republic. It has a special focus on empowering women, girls and children with the knowledge and skills to enter the Information Technology sector with confidence. In 2020, Czechitas presented 371 courses across 8 cities, educating more than 9,700 people!
The importance of gender diversity in IT
The first Purpose Talk promises to be a dynamic and inspirational session where Bara will unpack the ingredients behind the success of Czechitas as a pioneer of digital skills training for women and girls. She will present the lessons she's learned from years of designing and refining educational courses that actively engage and equip girls and adult women to become leaders in the IT field. Bara is a protagonist in helping the computing field benefit from new diverse talent, and involving the entire society to participate in innovation.
More about Bara Buhnova
Not only is Bara the co-founder and governing board member of Czechitas, but she is also Associate Professor and vice-dean at Masaryk University (MU), Faculty of Informatics in Brno, Czech Republic where she leads multiple research teams at the Faculty of Informatics MU, the Institute of Computer Science MU, and the Czech CyberCrime Centre of Excellence C4e. Bara is driven by her desire to engage more women in tech, and as such is a member of multiple initiatives that reach across Europe, including the Informatics Europe working group, Women in Informatics Research and Education (WIRE), and the European Network for Gender Balance in Informatics (EUGAIN) where she is the vice-chair of the 37-country European network. Bara is also an author of multiple research studies on gender-sensitive education.
WATCH THE RECORDING HERE.