Attention NPOs: Meet and Code tips to get started
Two weeks to go until the 2022 Meet and Code events kick-off! We've got inspiration and funds available for NPOs wanting to take part.
#MeetandCode #DigitalSkills #DigitalImpact
15.08.2022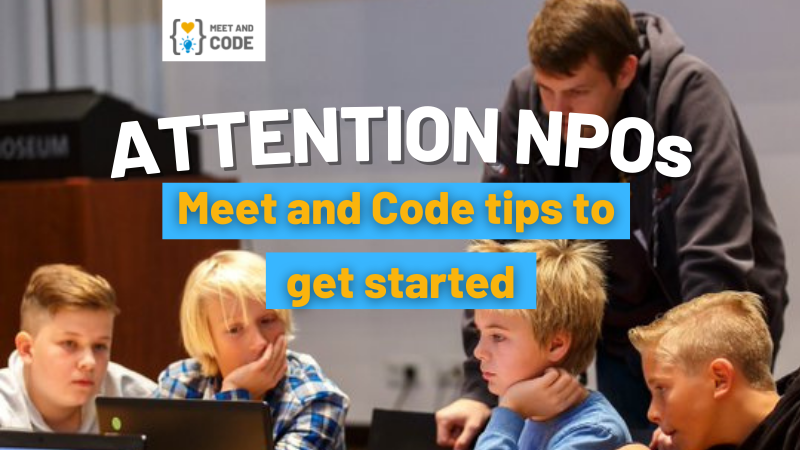 It's nearly time for our Meet and Code events to begin on September 1, but NPOs that would still like to get involved have until September 14 to apply for up to 500 euros to host their workshops. Not sure where to start? Fear not! We're here to help with some tips, tricks and a checklist.

Firstly, ensure your events are aimed at the youth within one of these countries: Austria, Bosnia & Herzegovina, Bulgaria, Croatia, Czech Republic, France, Germany, Hungary, Ireland, Italy, Kazakhstan, Moldova, Poland, Romania, Serbia, Slovakia, Slovenia, Spain, Switzerland, Ukraine, and the United Kingdom.

Secondly, your events need to be free-of-charge and can be hosted in person or virtually. If you've ticked those boxes, you're ready to roll. Now, for some ideas. At Meet and Code, our goal is to empower today's youth to solve challenges facing the world so they have a better tomorrow. This is why we encourage NPOs to gear the outcomes of their workshops towards supporting one of the 17 United Nations Sustainable Development Goals (SDGs). These recognize that ending poverty and other deprivations must go hand-in-hand with strategies that improve health and education, reduce inequality, and spur economic growth – all while tackling climate change.

In past editions, the events were aligned to the following SDGs: Gender Equality (SDG 5), Reduced Inequality (SDG 10), Sustainable Cities and Communities (SDG 11), Climate Action (SDG 13) and Partnerships for the Goals (SDG 17).

This year, we invite NPOs to explore these, and possibly other SDGs that they would like to develop solutions for at their events. You can find the full list here.

Next, you'll need to decide what tools and coding languages to use. Here are some of our top suggestions:
Scratch: With Scratch, students can program interactive stories, games, and animations — and share creations with others in the online community.
Snap!: This is a broadly inviting programming language for kids and adults which is also used as a platform for studying computer science. It lets you build your own blocks and import Scratch projects.
Python: A programming language and robotics tool, Python is considered one of the more advanced programming languages. It is mainly used to develop desktop applications, websites, and web applications and can be used with other tools such as Raspberry Pi. You can also teach Python programming with robotics, such as Edison robot.
JavaScript: This is a text-based coding language which means that students type the code out themselves. There are many libraries to choose from, and plenty of online tutorials. Robotics and other technology tools can also help students learn about JavaScript and how to program in this language.
Feeling more prepared? We can't wait to see your creative ideas come to life! If you need a bit more help, have a look at our Inspiration Library
here.
Your last step? Apply for funding. Read more about the conditions of participation
here
.
See you at Meet and Code 2022!